We often read about Northwest Arkansas in national media but it's nice to pick up on what else is happening around the state. Arkansas Business recently published its Trendsetter City issue.
You can check that out here on their website and their PDF presentation:
Website: https://www.arkansasbusiness.com/supplements/8/trendsetter-city
PDF Presentation: https://digital.abpg.com/trendsettercity_2021/page/1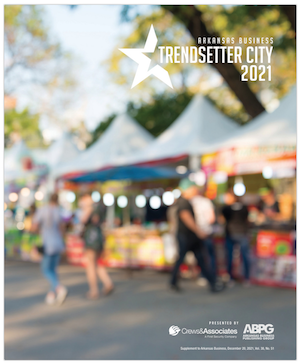 Yes, Fayetteville and Bentonville are mentioned as you might expect as are other cities in Arkansas where you would expect trends to be set – Eureka Springs, Hot Springs, North Little Rock. But look deeper and you'll find smaller communities like Paragould and Marshall honored for Wellness & Fitness, and Helena & Gravette honored for tourism development and creative culture. Stop and think about Gravette being honored for tourism development but their downtown renovation work is doing just that.
The Richland Group has developed digital marketing plans all across Arkansas for over 20 years. We know the kinds of challenges people face in towns like Mena, Mountain View, Cherokee Village, El Dorado and Fordyce. This state needs success stories beyond the Northwest, Central and Northeast sectors and we're thrilled to see these communities honored for their hard work and their successes.